OSTWALD / Located at the entrance of an ambitious eco-neighbourhood, this child care centre sets the ecological tone while also fulfilling its role as a public building.
This centre is the flagship facility for the new Rives du Bohrie eco-neighbourhood, both because of its mission of welcoming children (60 places) and its exemplary sustainable design. The architectural concept combines functional requirements for maximum visual and spatial fluidity with extra-ordinary volumes recalling the imaginary world of children, and very high environmental quality.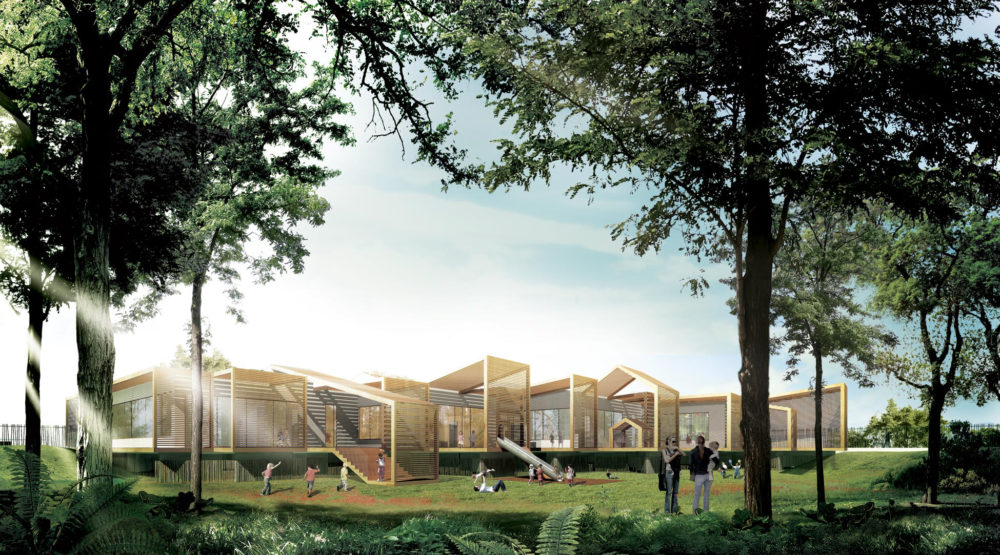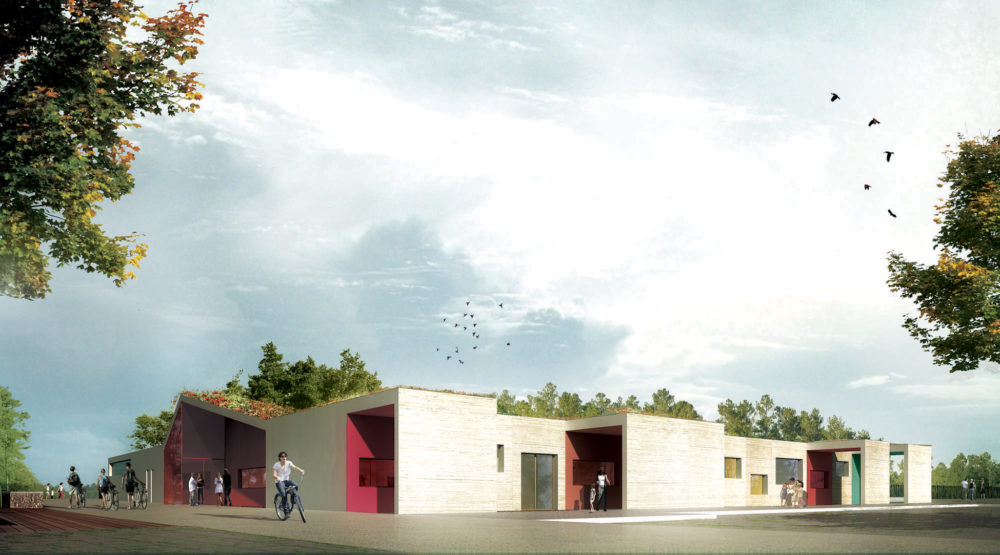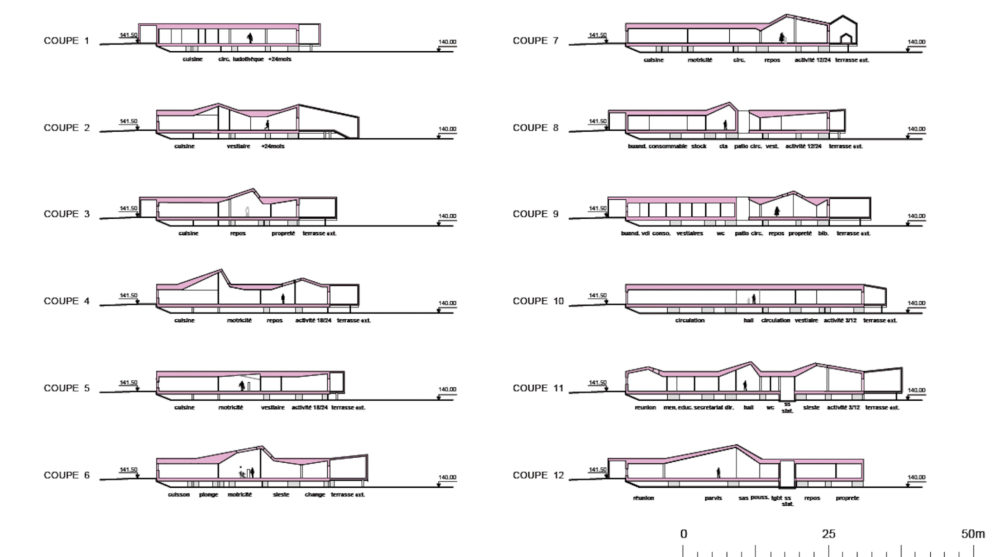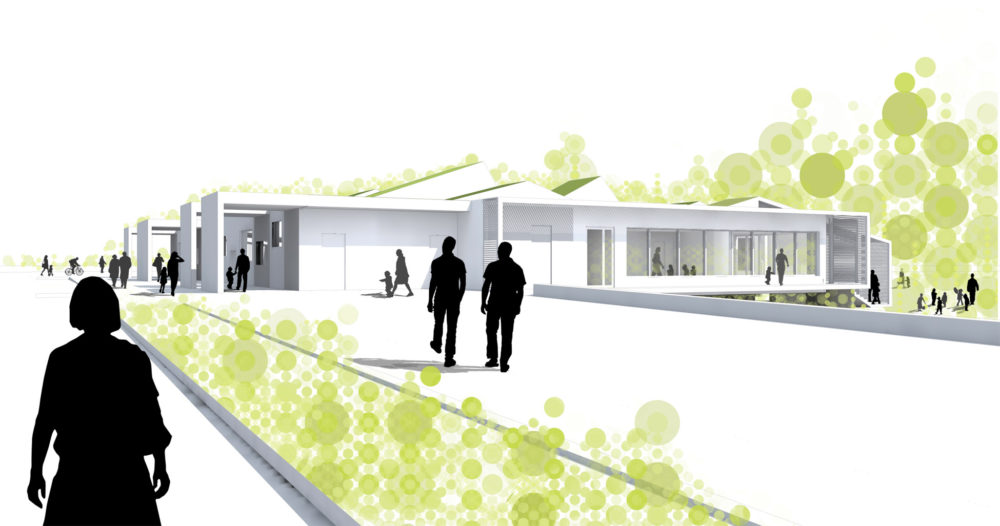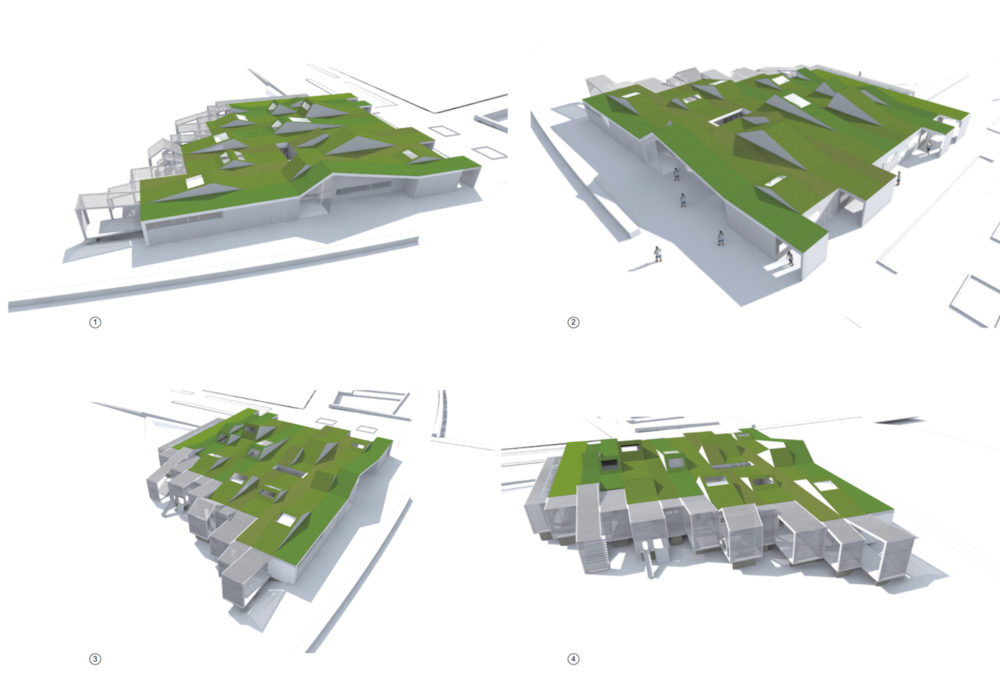 Borders. Facing out towards the banks of the river, the building is compact in its relationship to urban space, while on the eco-neighbourhood side, the building interacts with its natural environment. In some sections, the green roof and wood facades form a 'pleat', while other parts create 'vibrations' oriented towards the park, as the building openings offer sweeping views over the landscape. Inside, the spaces organized on one level create a sense of circulation that is both fluid (in particular for deliveries and maintenance) and safe (for children). 
Sustainable. The technical choices promote high-energy performance, via thermal mass (dense, wide building, combining reinforced concrete and wood), low temperature underfloor heating (connected to the city network), natural cooling (green roof, dual ventilation system/natural ventilation), management of solar gain (passive solar protection), electricity from renewable sources (solar panels) and energy-efficient lighting. Careful attention to indoor air quality, acoustic comfort and water management (rainwater collection) complement the sustainable design – not to mention taking into account that the land is prone to flooding.
Well-being. The well-being of children was a design priority, as well as that of childcare workers and parents. In addition to functionality and ease of use, the interior design awakens their imagination by offering objects of history and of discovery, learning how to socialize with others on the 'backdrop' constituted by the forest.
Fact sheet
Lieu : Ostwald (67, France)
Certified BBC (French certification for low-energy consumption)
Location: Ostwald (France)
Programme: Design-Development
Cost: 2.5 M€ (before tax)
Area: 1,100 m2
General Contractor: City of Ostwald – La Soderec
Contractor: Z wickert
Mechanical/HVAC/High Environmental Quality: Ingedec
Structural Design: Hagenmuller
Kitchens: Ecotral
l