In responding to the needs of our clients and their projects, we view architecture as a play on the subtlety of boundaries – between the project and its environment, function and use, constraints and daring, the obvious and the paradoxical. Our sustainable approach is based on our conviction of the need for high-performance buildings, and not a mere reaction to trends.
Synergy and Diversity: our work continues to build on and invigorate the spark of our first meeting, by cultivating the richness of our differences and those of southern and eastern France, our respective base camps. Efficiency and synergy drive the way we work together and have since Fluor's founding in 2005.
From one region and project to another, our passion for design and the richness of our experience drives us to constantly reinvent ourselves and our work.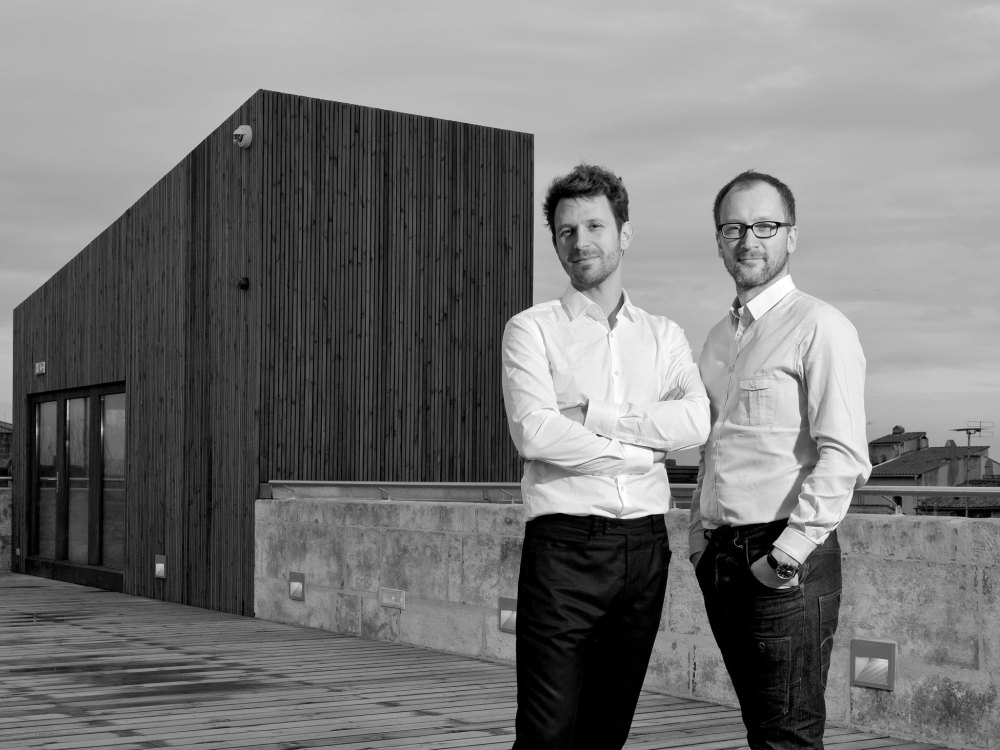 Guillaume Avenard
> 2005: Founded Fluor Architecture Firm with Hervé Schneider
Architecture Firms: François Seigneur and Sylvie de la Dure (2000-2005), Jean-Luc Rolland and Valérie Décot (1999-2000)
> 2000: Architecture Degree, Registered Architect (DPLG) (Écoles nationales supérieures d'architecture of Nantes and of Marseille)
Hervé Schneider
>2005: Founded Fluor Architecture Firm with Guillaume Avenard
Architecture Firms: François Seigneur and Sylvie de la Dure (2001-2005), Rudy Ricciotti (2000), Bétrix & Consolascio (1999)
>2001: Architecture Degree, Registered Architect (DPLG) (École nationale supérieure d'architecture of Strasbourg)
CONNECTION
"Hervé Schneider and Guillaume Avenard lived at our agency for 3 and 4 years. I say live because they fully inhabited the space; their passage through our agency was wonderful, a passage of the sort of people you cannot forget, whose mere presence and work enhance projects and make them achievable.
Hervé Schneider managed from beginning to end the Schirmeck Memorial and the Cité du Train de Mulhouse. Guillaume Avenard was in charge of the Roman Theatre and Médiapôle in Arles, which will soon be completed. He completed the wine cellars at Romanin and the first redevelopment phase of the Port-Saint-Louis-du-Rhône with François Morelet.
As for their success in national and international competitions, such as Shanghai, the Musée des Confluences, Monceau les Mines, the stage at Roque d'Anthéron and for the home of Rousseau, I wouldn't know where to begin…Whether projects are large or small, and no matter what challenges or complexity they face, they have always given their time with enthusiasm, skill and talent.
I entrusted them my sketches; they developed the detailed designs, and took charge of the specifications, the construction…they know the procedures and the buildings better than I do.
In 1971, as Jean Nouvel and I dreamed of independence, as a parting gift and to give us a leg up Claude Parent handed over to us the projects we were working on at his agency. While we carried them out in line with his vision, he pushed us, certainly, to imprint them with our own. Other projects that we contracted, thanks to his influence, enabled us to do just that: to build our thinking, to forge this link of continuity that is essential to good architecture. Although the circumstances of Guillaume and Hervé's departure are not the same – since I am the one closing the agency – I am fortunate to be able to maintain our connection; I wholeheartedly support them.
That Guillaume Avenard and Hervé Schneider joined together as partners was to be expected. That they founded FLUOR was not surprising. They have developed a modern, networked type of organization that is both economical and yields powerful results.
Perfectly equipped to conquer the world and architecture, all that remains is to consult them."
François Seigneur
Architect